"I thank you for bringing out the best in me
I thank you for ignoring the worst in me
I thank you for loving me for what I am
And for that, I want you to know 'I love you, truly!'"


Life is full of challenges and hardship, full of decisions to make, many opportunities knocking on our doors... through it all, what really matters is the choices that we made in our lives... right or wrong, we live by the choices we made. And I stand by my choices with no regrets!

Our wedding was a mixture of Chinese-Filipino tradition. It wasn't hard to organized though since me and hubby made most of the major decisions! And hubby always give in to my request [wink]!

Going down the memory lane --

1995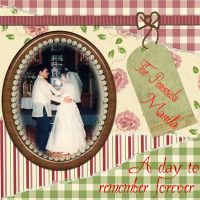 As early as February, we were busy with our wedding preparations... June, we announced our wedding plans to our friends during Hubby's birthday party!
October, we tied the knot... and off we go to HongKong and Singapore for our honeymoon.

1996
We bought and moved into our first townhouse in March... a place we called our HOME! Then we decided that its baby time...
I went on my first trip to Boracay/Iloilo/Roxas with hubby and my in-laws. We even met Martin Nievera and Pops Fernandez in Boracay... and later on I found out that I was pregnant.

1997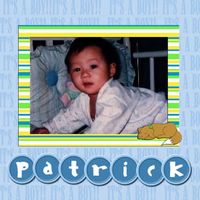 January 8, Hubby just left that morning to go to La Union/Baguio City, I wasn't due in 2 more weeks, but I was up for a checkup that same day at 2pm... and the doctor said I had to confine myself to the maternity ward.
I checked myself into the hospital and got hold of hubby around 7pm, told him to come home the next day as I know I am not due yet... but he decided to drove back that same night (imagine he drove from Manila to La Union to Baguio City and back to Manila for 18 hours).
By January 10, my doctor had to do an emergency C section and at 2:22am, we welcome our son with open arms... the start of many sleepless nights... and the joy of parenthood...

He is the first grandchild in my hubby's side and the 5th grandchild on my side.

1998
Patrick's first plane trip to Cebu to visit great grandma and meet aunties and uncles and cousins on my side...

1999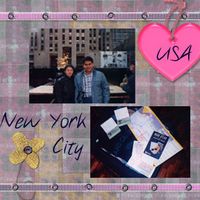 Our second honeymoon was a trip to the USA (SFO, Chicago, NY/NJ, Connecticut, Boston, Orlando)...
Little did I know that hubby wants to check out the possibility of migrating and living in North America... and as soon as we got home, we started gathering the required documents and filled out the forms for Canada. We submitted our application forms within a span of 6 weeks... And the wait begins...

Later in the year, we went on our third "unplanned" honeymoon to Bangkok, courtesy of my MIL's free airline mileage.

2000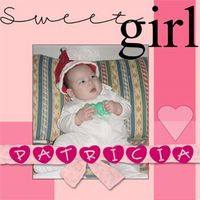 We received words from the Canadian Embassy to have our medical exams, since I was pregnant, I couldn't complete my x-ray until at least I was on my 7th month (this of course delayed the processing)...
In August, we welcome our daughter to the world... and my son was soooo happy to see his little sister! He even made a welcome sign for her.

She is the 3rd grandchild on my hubby's side and the 8th on my side. The youngest (so far) on both side.

2001
Marks the year we migrated to Canada... Hubby took up a 6-month full time course on Networking... And with lots of unfinished business in Manila, me and the kids went back home in time for my daughter's first birthday... and then we fly out to Beijing, China where my MIL was waiting. And finally back to Canada.
Yes, me and the kids (then 4.5 and 1 yr old) had been to 3 different countries in 1 year! It wasn't easy travelling with 2 young kids.

2002 to 2003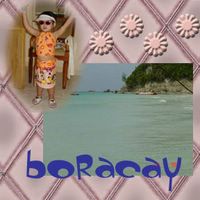 Courtesy of my MIL, we went home in December for a family reunion... Ahhhh.... There's no place like home! We maximize our trip by visiting Boracay, Roxas (to visit great grandma Payang) and Tagaytay Highlands.

And my son celebrated his 6th birthday with his old playmates. He remembers very little about the Philippines, so we took him around to see our old neighborhood and his old school.

2004
We went on a family trip to Orlando, Florida for 7 days and 6 nights with my in-laws (from Beijing, Manila and New York)... And on the day of our 9th year wedding anniversary, me and hubby celebrated it in MGM/Epcot/Magic Kingdom! Yes, 3 theme parks in 1 day! We met the whole family at Magic Kingdom later that night for Mickey's not-so-scary-halloween party!



It was a dream come true! We all love Mickey!
2005
Marks the year we became
Canadian Citizens
!
And our
10th-year wedding anniversary
!

October 8, 1995
San Sebastian Basilica Church
The Peninsula Manila

...oOo...
By the way, its a long weekend for us in Canada... Happy Thanksgiving to all! I have really a lot of things to be thankful for, most especially for my family's good health and many blessings! Have a great weekend!