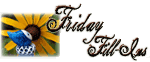 Our anniversary, fall colors, thanksgiving day and seeing kids in their halloween costumes are some of the things I'm most looking forward to in October.

Sometimes I fantasize to be rich and famous.

My son just brought home 3 quizzes that scores 100% and that's why there is a saying, "never say never"!

When I'm down, I want to be left alone.

My computer table is where you'll find me most often.

A rainy day is good for sleeping in.

And as for the weekend, tonight I'm looking forward to quite night at home, tomorrow my plans include going to Ikea and Sunday, I want to sleep in but can't because I'm working!
Join Friday Fill-ins