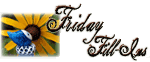 October 8 is our 13th wedding anniversary!.

Phone ringing in the middle of the night scare me!

Leaves are falling all around, it's autumn, my favorite season.

My favorite horror movie is NONE because I don't want to scare myself to death, so I don't watch horror movies.

Road trips plus pictures = good memories.

It was a dark and stormy night and I will be in bed watching a movie with hubby.

And as for the weekend, tonight I'm looking forward to watch movie with hubby tomorrow my plans include recycling and taking the kids to their 'Home Alone' program and Sunday, I want to relax and plan for our anniversary road trip and browse through Oscar de la Renta's line of clothing!
Join Friday Fill-ins