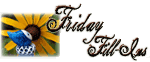 One of the best concerts/plays/movies I ever saw that I really didn't think I'd like was a broadway show called The Producer.

Nanaimo bar is a recipe I recently made that was delicious!

It's time for some Thanksgiving dinner.

A glass of coke with ice is quite refreshing.

If I never hear the word re-check and swab again, it'll be too soon. [

Part of my job

]

To one side of the curving road was the Canadian mountains, and on the other was a photographer [me] trying to capture the beauty of nature.

And as for the weekend, tonight I'm looking forward to sleeping in early, tomorrow my plans include going to work and mass in the afternoon and Sunday, I want to be a coach potato but I can't because I plan to go to work and then attend a Thanksgiving dinner party at night!
Join Friday Fill-ins