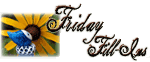 Follow the leader.

My DSLR camera is something I always take with me on vacation.

To achieve your goals, you must have realistic and achievable goals. Don't dream of the impossible!.

I am not a snob like most people would think when they first met me is something I'd like you to know about me.

I have a book on Idiot's guide to Digital Photography that I still have not read.

I miss the A&W rootbeer floats.

And as for the weekend, tonight I'm looking forward to quiet evening with the family, tomorrow my plans include helping a family friend move to their new home and Sunday, I want to start cleaning up the junk in the basement!
Join Friday Fill-ins