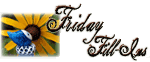 Right now, I'm feeling tired.

To be with my husband and kids is where I want to be.

How does one have peace and quiet with 2 kids arguing all the time?

Having a goal and direction is what keeps me on track.

Please don't make me mad today.

Making money through blogging fills me with joy.

And as for the weekend, tonight I'm looking forward to movie night or karaoke night with the family, tomorrow my plans include rest day and hopefully get some chores done and Sunday, I want to go to work, actually I need to go to work!
Join Friday Fill-ins