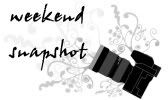 Last Saturday, we helped a family friend buy their BBQ grill and they invited us for a BBQ dinner on Sunday.
I marinated some pork bbq, but in my mind, I never thought I'd be the one to cook. I wore my wool coat that day because the temp is somewhere in the -20C. Yes, it is very, very cold. And because I ended up being in charge of the cooking, I wore my son's winter jacket. Yes, he is almost a grown up in size but not mentally.
The other picture will show how much snow we had since December. Too bad its already dark, or I am prepared to have my kids make a snowman and snow angel.
We also had salmon, pork ribs and chinese
tikoy
[rice cake] to welcome the year of the Ox.