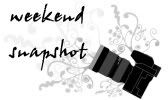 My MIL is leaving on the 22nd and we decided to take her to Panorama Mountain Village in BC which is about 4 hours drive with stop overs. The place is really beautiful and situated on top of the Rocky Mountain.
This was the last day for winter activities... too bad we got there a little too late to try some skiing or snowboarding. My kids are a little disappointed even though I didn't promise them skiing or snowboarding. Oh well, we will have to do it next winter time... Spring is finally here!
Am still on hiatus...